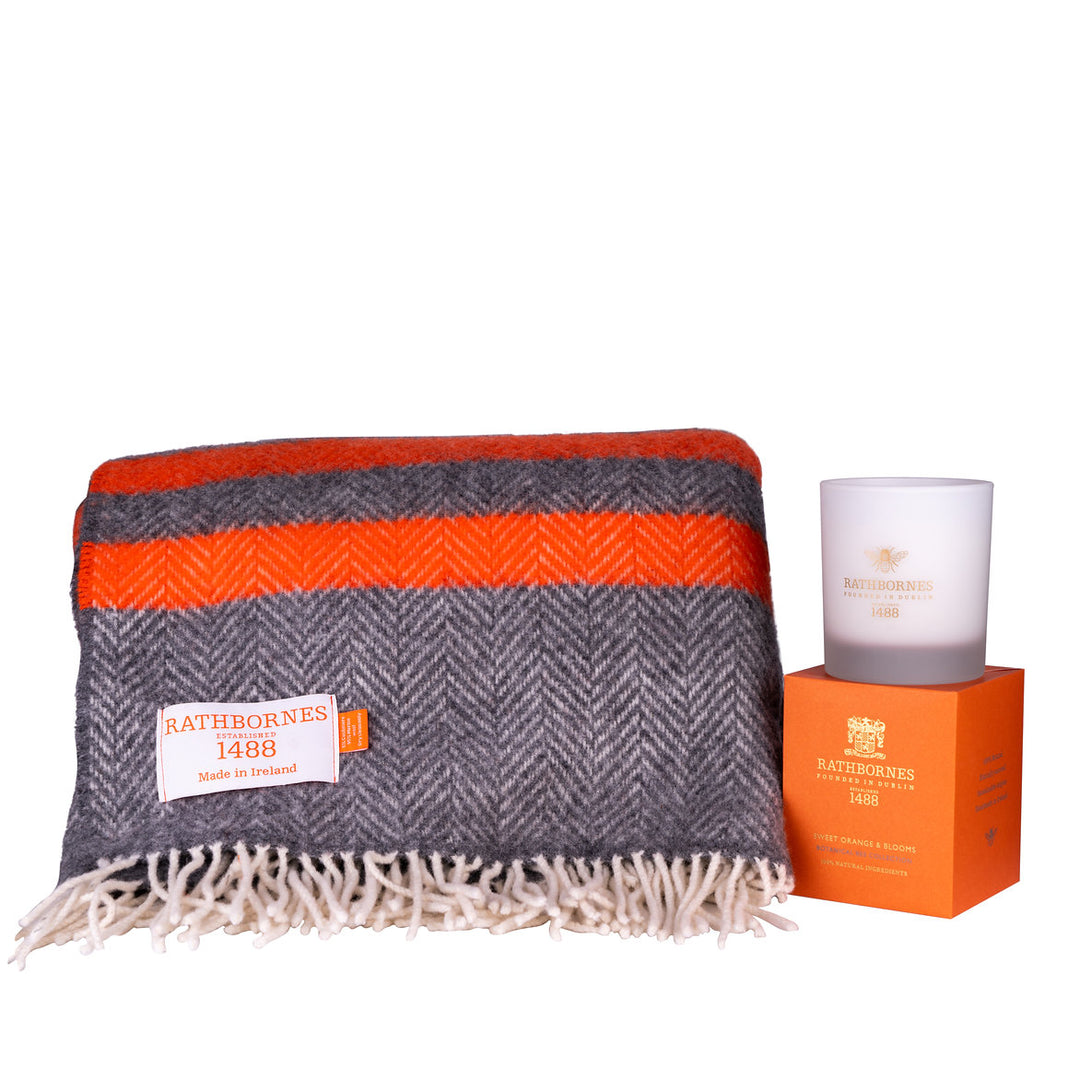 Merino and Cashmere Throw + Sweet Orange Candle
In stock, ready to ship

Inventory on the way

More payment options
As with all of our products, the focus is on quality. The perfect blend of cashmere and merino wools ensures a supremely soft texture allowing you to enfold yourself and your loved ones into a cosy cocoon of comfort, making it a perfect gift for yourself or someone you love.
100% natural beeswax, rapeseed and coconut waxes are carefully combined with natural fragrance oils to produce a sustainable candle that not only smells amazing but makes you feel better too, and all while taking care of the environment. Each candle is wrapped in the barest of 100% recyclable packaging while still having that luxury feel and design.
DESCRIPTION This beautifully soft and luxurious Rathbornes throw is woven from the finest cashmere and merino wools by true craftsmen and women in Ireland. PRODUCT INFORMATION
The unique combination of bright orange and classic grey reflects the splendour of flame, creating a metaphor for the comfort offered by candles " a natural extension to our 530 years of candle-making
The Fragrance A complementary blend of energising citrus aromas and relaxing lavender. Fresh top notes of dried rosemary are sweetened with orange rind and lavender, resting on a base of palmarosa and clean cedarwood. Lavender oil, orange oil, palmarosa oil and rosemary oil are all known for their relaxation and calming properties. Cedarwood oil helps to relax the body, decrease hyperactivity and encourage the onset of sleep. How to use Always burn your candle until the whole surface becomes liquid. This can take up to 3 hours or longer on the first burn. Never burn it completely to the base of the container. Always leave one cm of wax at the bottom. Never leave a burning candle unattended. Keep out of reach of children and pets and away from heat sources and draughts. Trim the wick between lighting. Enjoy!
95% Marino, 5% Cashmere Dry Clean only 136cm x 180cm (54" x 71") 210g; Up to 50 hours burn time